Fishing Reports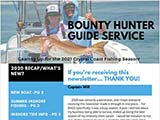 Bounty Hunter Guide Service
Spring 2021 Newsletter & Giant Redfish Video
May 2021
2020 was certainly a weird year, and I hope everyone receiving this newsletter made it through in one piece... For BHGS specifically, it was a busy season. A year I worried about my business being able to survive, ended up being the best season of my relatively short career. I would be mistaken to not give all the credit to my loyal customers and new ones alike! Read More >>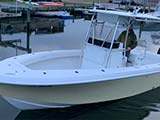 New Boat Who Dis??
03/21/2021
What a crazy year 2020 was! It was crazy busy, and our best year yet at BHGS. As always, I apologize (to whom it may concern) for the lack of posting on the blog/fishing report. I promise, we were fishing hard since the last post! I am hoping to have a new website some time this spring. We'll see about that, hopefully one where my instagram. Read More >>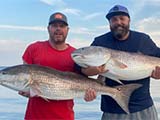 Drum Roll, Please!
09/15/2020
We've been rolling through this drum season enjoying every minute of it! Luckily, the weather has been beautiful! Not a lot of wind and storms haven't been all too frequent, and have been easy to avoid when they pop up. Fishing has become more consistent for the big drum and the slot fish have still been readily available even in the couple nor'easters. Read More >>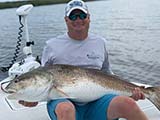 Neuse River Giants and Mixed Bag
08/23/2020
We have been fishing primarily on the Neuse River and all over the Neuse, at that! We are still experiencing hit or miss old drum fishing, but we are catching them many days and catching nice trout and slot drum on topwater to fill the voids! Highlight of this week had to be the school of tarpon that was following a school of old drum crushing shrimp. Read More >>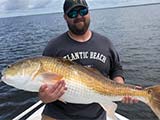 Summer Inshore leads to the Old Drum Bite
08/15/2020
The Beaufort and Harkers Island area flats fishing for redfish and speckled trout remained very good through late July, but now we are starting to spend our days on the Neuse River in pursuit of trophy redfish or old "drum." We have been catching them for a week or so, with some days producing a good amount of bites and some days leaving us scratching our heads. Read More >>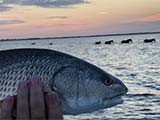 Summer Time and the Livin's Easy
06/25/2020
The summer inshore fishing has been heating up with the weather finally becoming a little more stable. We are casting for redfish with topwater and gold spoons and catching plenty of them. It's still fishing and some days you zig when you should have zagged, but most days we are experiencing good catches of reds and a few flounder. Read More >>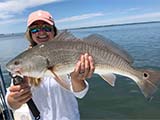 Summer Inshore Fishing Tides 2020
05/18/2020
This past week was a lot of fun! From fair to excellent #redfishing to #AtlanticBonito, mackerel, sharks and big #bluefish on topwater, we had our hands full! As we move towards summer, we look forward to some great inshore fishing with #Redfish and #SpeckledTrout being major players as well as sharks, bluefish, Spanish mackerel and others putting deep bends in our rods. Read More >>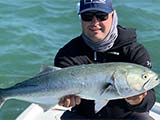 Covid-19, Bonito, Bluefish and Big Trout
05/05/2020
I've waited a long time to bring this up, because there are a lot of unknowns and business has been non-existent the past month due to Covid-19, but YES we are still in business especially with the state slowly starting to open up on May 8th with phase one of Governor Cooper's reopening plan. With that being said, we hope people will keep their charter fishing parties to 1-2 people and by the end of the month maybe we will be close to normal. Read More >>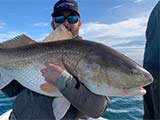 2019 Recap and 2020 Winter Report
02/25/2020
2019... Wow, what a year! I want to thank everyone that fished with BHGS in 2019 for making it another great year and allowing me to do what I love for a living. The clients I have and the relationships I am able to develop on the boat with my customers is why I keep grinding out there on the tough days. I truly cannot complain! Read More >>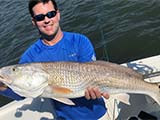 Dawg Dayyyzzzzzzzz
07/11/2019
Man, we are having a blast. Redfishing hasn't been as easy as the last couple yeas, but it keeps the crowds down and we are still catching plenty to provide smiles and laughs and awesome topwater explosions. I mean you just can't beat it.... Why fish for anything else??? Some days we are landing on fish and getting good numbers and often hitting double digits. Read More >>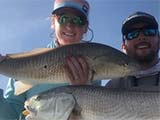 Sping/Summer 2019
06/13/2019
Well, it's been a long time since I posted on here and I need to be better about posting to my blog periodically! Don't worry, we've been fishing as much or more than ever! I was so busy last August 2018 that I didn't post anything on here and then in September, hurricane Florence happened and I just didn't have time to focus on my website, but enough excuses! Read More >>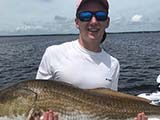 Drummin' and Storm Dodging
08/12/2018
The last few weeks have been a roller coaster for sure. When you can get to the areas you want to fish between the storms, we've had some good fishing. Some days on the Neuse in pursuit of the big drum have been tough... Others have been great! After the 15+ inches of rain, things got shaken up a bit. It's settling back down now and we are seeing more and more consistent big drumming. Read More >>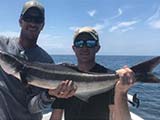 Great Inshore and Nearshore Fishing Continues
07/17/2018
On the nice calm days, we are getting out offshore after throwing the net and loading up with live bait. The king and big Spanish mackerel are biting well and providing plenty of excitement. Every now and then, you get a shot at a cobia swimming by! Read More >>
Great Summer Variety Continues
07/04/2018
Life is good here in Beaufort, NC fishing the Crystal Coast and the shallow waters surrounding Cape Lookout. We have been blessed with continued action on the flats for redfish and some good Spanish mackerel and bluefish action for the families, kids and novice anglers. Read More >>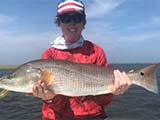 Hot Hot Drummin'
06/22/2018
Well, the redfish bite has been strong. Tough to want to do anything else when you have such great action in the back yard! We have been finding schools and picking off fish from areas with topwater lures, gold spoons and some 1/8 oz jigs with Zman soft plastic baits. Read More >>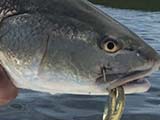 Summer Inshore Action Underway
06/12/2018
Fishing has been great here at the Crystal Coast and Cape Lookout. Whether you stay in Atlantic Beach, Morehead City, Emerald Isle, Beaufort or Harkers Island, you owe it to yourself to get out here and experience the great summer inshore fishing that's going on right now. Redfish action has been heating up with schools of drum showing up and many of the inshore spots holding fish throughout. Topwater lures and gold spoons have been the ticket for the red drum. Read More >>
Hot Start to the Cape Lookout Season
05/16/2018
The fishing at Cape Lookout has started off with a bang. Cobia are just starting to trickle in, hopefully it will bust wide open soon. There have been chopper bluefish at the Cape Lookout shoals, inside the hook, in Core and Back sounds. There has been excellent Spanish Mackerel casting at the Cape and they have been mixed in with Atlantic Bonito on the nearshore reefs and wrecks. The Bonito fishing has been decent to excellent, depending on the day. They will make their way out of here very soon though. Read More >>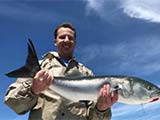 ...Spring?
04/24/2018
As I write this, it is pouring cats and dogs outside and I'm thinking about bluefish. This year, April has basically been our third winter here on the Crystal Coast. The weather has been horrible and cold and there hasn't been many opportunities to get out and fish. Also just finished some repairs on the boat and am now ready to go! A couple days ago, I got the boat back out on the water for the first time this year. Read More >>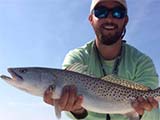 Fall Is Coming
09/26/2017
Using this down time to reflect on the awesome old drum fishing we had this year on artificial lures. A few days ago before this wind blew up, I had what will probably be my last old drum trip of the year. Return clients Casey and Donnie came down and we had a great morning eclipsing the double digit bite mark. It was a beautiful day with a lot of bait to cast to and many willing red drum. Read More >>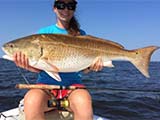 Arrival of the Giants
08/30/2017
The awesome inshore mixed bag fishing continued well into August, then we shifted our aim to the Neuse river in pursuit of the giant red drum, or old drum as the locals call them. We found them after a few days of searching and it continues to improve as more and more fish pour into the river. Some days have been epic and some okay with a few bites. We are catching them on artificial lures making long casts with medium heavy spin tackle and making a lot of noise with popping corks to draw strikes. Read More >>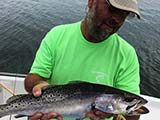 Inshore Is Where It's At
07/14/2017
Inshore fishing continues to be the ticket this summer. With all the SW wind, it's been hard to get in the ocean, so we have been playing inside. That's fine with me, because it's rockin! Morning tide topwater fishing has been outstanding, with many red drum crushing topwater baits with reckless abandon. On the days when we have to fish the flats in the heat of the day, we are still getting the reds on the gold spoon and popping cork rigs. Read More >>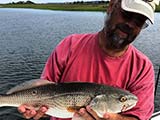 Summer Fishing In Full Swing
06/27/2017
From redfish on topwater baits, to grouper offshore, we've been enjoying good variety out there lately. My favorite, the inshore waters, have been on fire. There was one week when the tides were super low and we couldn't really get up on the flats where we like to fish. But, other than that, it's been awesome fishing inshore. Speckled trout and flounder starting to show up in numbers as well. Read More >>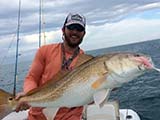 Predators
04/25/2017
I went out for some fun fishing with my uncle and we were able to find a baitball that had some predators lurking around it. Before the storm ran us off, we pulled a few giant reds off of it and some big chopper bluefish. There were some huge sharks down there and they hit one of the drum that we landed right at the boat... Sad... Read More >>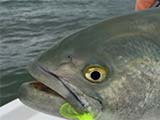 Invasion of the Chopper Blues!
04/23/2017
More good trout fishing! Gotta love it. After some trout fishing, we headed back to the Cape and we can't get away from the chopper bluefish! What an incredible run of these awesome creatures. It hasn't been this good in years, or even ever in my memory. It's incredible topwater action if I've ever seen it. You can blind cast the sloughs, slowly drift the flats on the trolling motor and sight cast to them, go to the shoals and find them in schools... They're everywhere. Come get some! Read More >>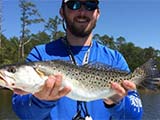 Spring Is Here
04/04/2017
Got back onto the water this winter after a little hiatus. Installed some new stuff on the boat including trim tabs and my new Lowrance Elite 7ti with totalscan. This thing is awesome. We are marking fish, bait and structure like we never have before and I have satellite photo overlay on my chart with the Navionics platinum plus chip. Anyways.... about the fishing...Read More >>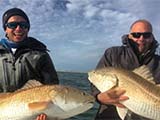 Fall Fishing Was Hot
12/15/2016
What an epic fall. Thanks to everyone that fished with Bounty Hunter Guide Service this year! I hope to see y'all again in the future. Fishing has been so entertaining this fall. Only bad part was trying to decide what to fish for. Everything has been biting, but we love the false albacore, speckled trout and red drum around here. Ever since the tropical system that moved through and slowed down our awesome giant red drum catching in the Neuse River, we moved back to the Cape and started pursuing Albacore and Spanish Mackerel on fly and light tackle at the early season of the Fall blitz. Read More >>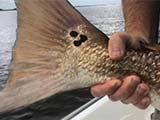 More Hot Fishing!
08/30/2016
The weather has been blazing hot and so has the fishing! Wow, our giant adult red drum run started with a bang with the first trip of the year (video on the home page) being nothing short of spectacular, followed by some more great fishing for those willing to take on the hunt! Read More >>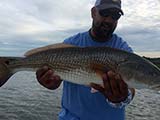 Fishing Report July 26 2016
07/26/2016
Dog days of summer, but still catching nice fish! The speckled trout are showing up, the flounder are in their usual spots and the red drum are crushing the shrimp and mullet that are ever plentiful! Shark chumming is hot and can be a fun experience for adrenaline junkies! Read More >>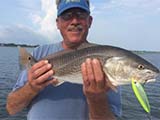 Fishing Report July 4th 2016
07/04/2016
Been on some nice drum lately on topwaters, zman soft plastics and gold spoons! Love it!!! Come get ya some of this fun summer inshore action! Read More >>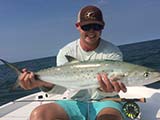 Summer Is Here and the Fishing Is Hot
06/15/2016
I haven't updated the fishing report in a little while, so here it goes! Summer fishing has really started to fire up with red drum and even some black drum action inshore around Harkers Island (Core Sound, Back Sound, North River large mesh gill net restricted area). The big sharks are behind the trawlers, the amberjacks are crushing topwaters and popper flies, the big blues are piling on jumpin' minnows and flies, and the Spanish mackerel of all sizes (some giants on the baitballs) are readily eating casting metal and flies! Read More >>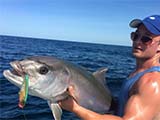 Summer is Upon Us
05/25/2016
This day last year, we started finding Amberjacks on the nearshore wrecks and reefs. If I could go today, I would. Looks like a tropical system is headed our way... This weekend and early next week we will probably feel the effects of it and have some poor weather. After the storm, look out! It's Amberjack time! Get your chin straps on! Read More >>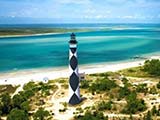 Cape Lookout Cobia Arrival Report
05/11/2016
COBIA ARE HERE! Saw a couple on one of the many baitballs we saw in the two hours I was able to get out on my friend, Capt. Tom Roller's boat for some cobia hunting. One of them ate a jig and we pulled it out of his mouth and the other one eluded us. Happy to see them on the quick outting... Lot's of bait and pretty water that is the right temperature. The late morning sight fishing bite was good, I hear. It's shaping up really well! There should be some really good cobia fishing over the next few weeks. Read More >>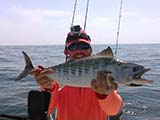 Spring Fishing Report May 9, 2016
05/09/2016
When a dead morning turns into a short lived flurry of action! We picked at a handful of yummy keeper Black Sea bass in the morning and nothing else came to play. Then the big Spanish Mackerel, Bonito, and blues showed up in force and we had a late morning rally in high sunlight! Only bad part of the day was the Cobia that decided to swim by and eat our bucktail decided to throw the hook... Read More >>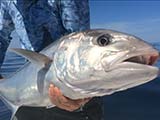 Back On the Water for Some April Pullage
04/25/2016
Got back on the water today and had my good friend Captain Travis Dixon aboard to go try to find some pullage and boy, did we find it! We had a day that was nothing short of spectacular from the weather to the giant Albacore, Atlantic Bonito and Amberjacks that tested our light tackle outfits! (We weren't planning on going far enough out to find amberjacks in April). We put a lot of miles under Bounty Hunter and we had a great time. Did I mention we caught a few bonito? YUMMM Read More >>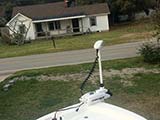 Getting ready for the 2016 Spring/Summer season
03/25/2016
Getting ready for the 2016 season.... New remote controlled Minn Kota trolling motor = awesome fishing rig! Thanks to a new friend for helping me rig this bad boy up! Read More >>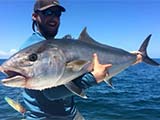 2015 Eastern NC Fishing recapped
02/11/2016
Wow... What an interesting year 2015 was... We started in the spring hitting the nearshore wrecks and reefs and we found loads of nice sized gray trout, black sea bass, bluefish and some early flounder and many times, as we were rolling up to the wrecks, the false albacore were putting on a show blitzing on the glass minnows that seek refuge around the structure. Read More >>
We Provide Services to the Following Cities, Towns and Surrounding Regions of NC: